Nero4
S Gold Series
Limited Edition signature model
The new NERO 4S Gold is a product built on the already excellent NERO4S technology, taking some demanding extra step to meet the requirements of home cinema purists, whether they are image gurus or cinephiles seeking the ultimate immersive experience.
There are few projectors that can approach the targets SIM2 defined for its top-of-class product in 4K UHD HDR. There are only a few pieces - all numbered - out of the whole production. All those 'best in class' are fitted with selected parts to improve lens quality, colorimetry, focus and the HDR performance curves: if the NERO 4S has been considered 'best in class', the new NERO 4S Gold Series will shock you.
Made right for YOU
For Each units of Nero4S Gold Series we make a special selection of only the best optical components.
Each unit is tested in the factory, simulating the installation in the specific customer's theater, in order to test and approve the image quality of the NERO4 S GOLD SERIES for each specific installation.
The NERO4 S GOLD SERIES is not available in stock, it is produced by trained engineers for each customer starting from the moment of the order. The production takes a longer time for all the tests and theater simulation
4K resolution for lifelike images and subtle details
SIM2 has consistently set new standards of performance and design in projection, allied with unprecedented innovation. The all-new NERO 4S Gold Series UHD HDR is no exception.
The NERO 4S Gold Series projector delivers class-leading picture quality through the partnership of the latest 4K UHD DLP® chipset from Texas Instruments, super high-precision and resolution optics and SIM2's advanced video processing technology, for a lucid and colorful viewing experience. DLP® from Texas Instruments is Hollywood's choice of technology for movie theaters and conveys extraordinary image quality that brings out the smallest details - even during high-speed sequences – with assured, long-lasting performance.
HDR as its best
The SIM2 NERO 4S Gold Series are not only a HDR-capable (accepting an HDR-encoded signal via HDMI 2.0a, HDCP 2.2), but present a full set of features dedicated to HDR picture display.
They offer automatic metadata recognition and an advanced calibration mode, with 4 presets to automatically fit different screen sizes. The metadata describe the characteristics of the image being displayed (peak luminance, color gamut, etc.) and the SIM2 NERO 4S Gold Series detects them and automatically enables its HDR mode. Nonetheless, it adjusts the image data through a process called tone mapping, for softening the clipping of high lights.
In HDR mode, the projectors have 4 presets that allow customers to obtain the standard EOTF (Electro Optical Transfer Function) SMPTE ST2084 behavior, with which HDR video content is packaged, suitable for 4 different types of installation, for a correct playback of HDR video materials and simplified installation The SIM2 NERO 4S Gold Series have been designed for this behavior to be as faithful as possible to the ideal behavior it needs to have.
In addition, 4K UHD resolution, 8/10/12 color bit depth processing and YCC 4:4:4 color coding, combined with HDR technology, allow the SIM2 NERO 4S Gold Series to deliver unbeatable image quality. By means of its high peak luminance, inky blacks, and vibrant color gamut, SIM2 NERO 4S Gold Series provides images where every scene is replicated with extreme realism, just as the human visual system would perceive it in the real world.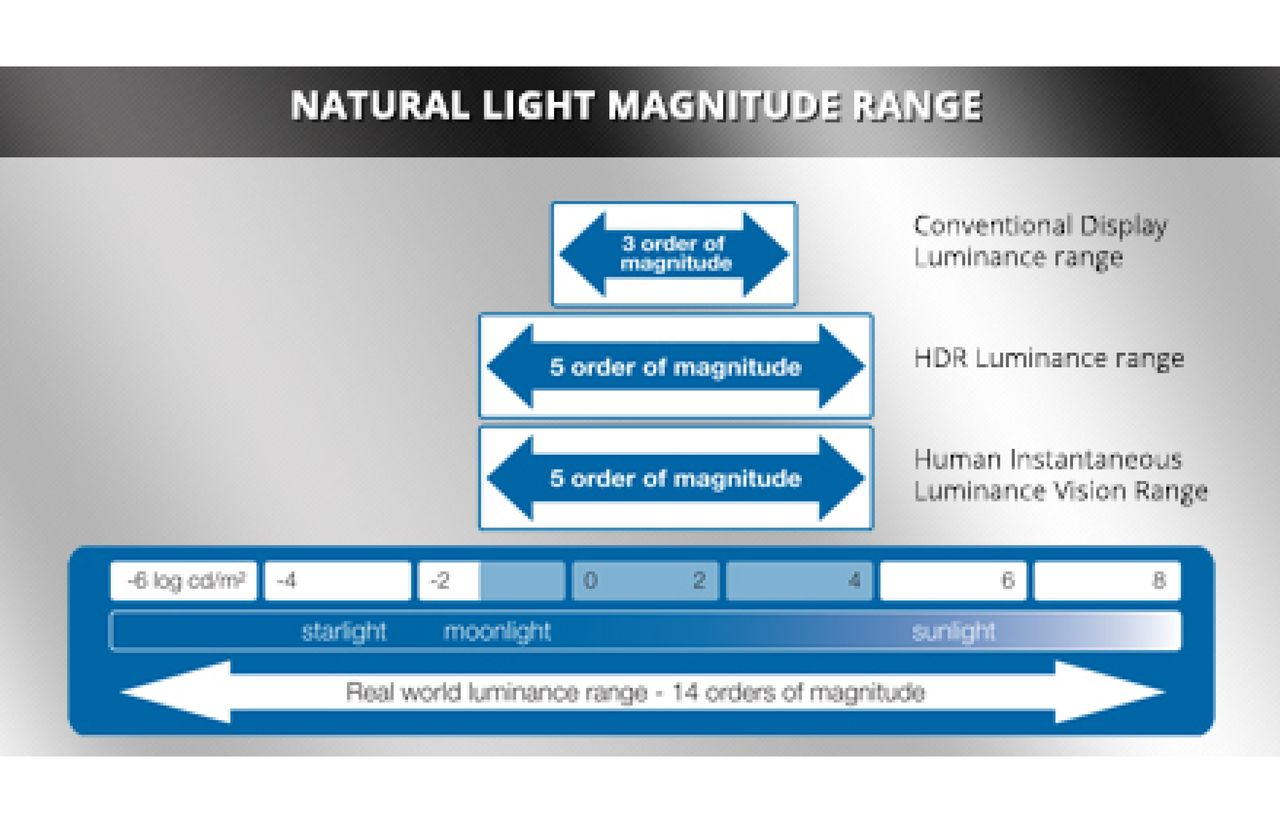 About HDR Technology
In the real world, the intensity of natural light can span up to 14 orders of magnitude from night to direct sunlight. The ratio between max. and min. luminance is called dynamic range. The human eye can instantaneously perceive up to 5 orders of magnitude without adaptation. HDR (High Dynamic Range) is the ability to render a large range of luminance in a display, from extremely dark to extremely bright values, hence creating brighter whites, darker blacks and brighter colors that better match what we see in the real world.
This large dynamic range requires different display behaviors with respect to the input signal.
For this reason, all the HDR video chain has been rebuilt and, in place of the "gamma" , now an "EOTF" is used, based on the real human eye's ability to perceive differently low light and high light details (SMPTE ST2084 based On FQ - Percived Quantizer).
Proper use of HDR content therefore requires an absolute display behavior (at a given input signal level corresponds to a single and precise luminous level reproduced). This implies that, depending on the luminous flux output from the projector and the screen variations (size, material, reflectivity, etc), it is necessary to change the behavior of the projector to remain true to the EOTF for which video content was produced You want to project.
SIM2 Perfect fit & autofocus technology
With SIM2 NERO 4S Gold Series projectors the "widescreen" ratio is easier to achieve than ever thanks to SIM2's Perfect Fit function. Zoom and focus positioning can be, in fact, stored for 10 different picture formats, from standard 16:9 to 2.40:1 aspect ratio (Letterbox or Anamorphic). Once set up, the Lens Memory is recalled at the touch of a button; the image is automatically adjusted to fit the screen format preference without an external anamorphic lens.
Also, the SIM2 NERO 4S Gold Series models are equipped with autofocus tracking for an always perfect focus in any specific installation condition, as well as a remote Info function that provides continuous information on all internal functions.
DCI - P3 SPACE COLOR & LIVE COLORS CALIBRATION SOFTWARE
To aid calibration, the SIM2 NERO 4S Gold Series is capable to reach DCI-P3 colorimetry .In addition the projector features SIM2's advanced Live Colors Calibration 5.0 software that allows professional calibration of all projection parameters such as complete adjustment of the primary, secondary and white point color coordinates.
Live Colors Calibration allows accurate adjustment of the color volume.
Live colors calibration software
To aid calibration, the SIM2 NERO 4S projectors features SIM2's advanced Live Colors Calibration 4.0 software that allows professional calibration of all projection parameters such as complete adjustment of the primary, secondary and white point color coordinates.
Live Colors Calibration allows accurate adjustment of the color volume.
High Resolution telecentric optics
In order to obtain the best projected image accuracy, a delicate balance is required between the light engine, the DLP® chipset and the video processing electronics. Building on its heritage of high-end light engine design, SIM2 has invested heavily in the development of a high-precision telecentric optical system. The SIM2 NERO 4S UHD HDR models' pure-glass lens provides an unprecedented resolution of 93 line pairs per millimeter to guarantee exceptional on-screen clarity.
Special coatings have been applied to the optical components to further enhance image and color performance.Installation aids include wide ratio zoom lens (2x zoom) and fully motorized focus and zoom adjustments, plus optical lens shift to adjust the position of the image up to +/- 75% vertically and up to +/- 30% horizontally. 
The 2x zoom lens provides easy, simple, effortless, and accurate setup in most size rooms and applications; for instance, for a 140-inch diagonal screen size, the projector can be installed from between 4.2 to 8.3 meters (from 13.7' to 27.3') from the screen. 
Spectacularly-high brightness
A new high-power long life 450W lamp enables NERO 4S UHD HDR to provide up to 6000 ANSI-lumens (>10,000 ANSI-Lumens on Dual NERO 4S UHD HDR) for vibrant and clear images across the whole screen.
Why a Telecentric Optical System
In a telecentric optical system the chief ray is parallel to the optical axis. The optical system can be telecentric in the object space, in the image space or in both of them.
The telecentric system has no perspective error.
The size of an object moving towards or far from the lens appears to be always the same. For this reason telecentric lenses are used widely for industrial application where precise measurements are required.
The main advantage of a telecentric system is its independence from the position of the object or of the image.
The telecentricity guarantees that there is no magnification change during refocusing.
This is particularly useful in projection systems if vertical and / or horizontal shift are needed.
A further advantage of telecentric lenses is their low distortion. The rays cross the telecentric lens elements forming small AOI  (Angle of Incident)  and this guarantees good performance  in terms of color separation and glare.
"The Nero 4S is one of the most satisfying UHD/HDR projectors I've used at any price."
-Doug blackburn-
"During my audition, it routinely delivered far and away the most compelling, detailed and dynamic 4K HDR experience I've seen from any consumer PJ.
That S must stand for Super..."
-John Archer-